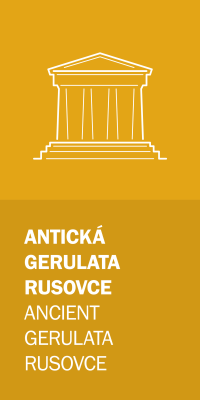 Ancient Gerulata Museum
Gerulatská 7, Rusovce
+ 421 2 6285 9332
mmba@bratislava.sk




NOTICE
Dear visitors, please follow all current COVID-19 rules.
Exhibition of the Ancient Gerulata Museum
The showroom of the exhibition presents finds from archaeological researches. The exhibition was created as a lapidarium on the grounds of the significant archaeological locality Gerulata in Rusovce.
Romans used the Danube as a natural border and built a very sophisticated fortification system, the so-called Limes Romanus. Present-day Slovakia borders with it by the castellum Gerulata in Rusovce. This military camp played a very important strategic role – it protected the eastern wing of legions located in Carnuntum, the capital city of the province of Upper Pannonia.
It is probable that Romans took the name Gerulata from the original Celtic people. Thanks to previously analysed parts of the castellum, it was possible to outline its four construction phases, the location of burial grounds and civil settlements – vici, as well as agricultural settlements and a villa rustica. The exhibition presents the history of the building and life of the inhabitants of the castellum especially by means of archaeological finds.
The beginnings of Gerulata are dated to the era of Flavian emperors. The construction of the military camp involved Carnuntum garrisons of the X, XIV and XV legions. From the beginning of the 2nd century AD, the elite cavalry unit Ala prima Canannefatum was permanently stationed there. Other legionary tile-stamps on Roman roof tiles and epigraphical inscriptions on votive altars provide the evidence of the presence of units of the II legion as well as of the XVIII cohort of volunteers, of the V cohort and the I cohort of archers.
Long-term archaeological research in Rusovce resulted in an extensive collection of archaeological finds. Among extraordinary finds there is a collection of stone art works – votive altars with inscriptions – and of sepulchral artefacts with rich figural and vegetal decoration. Many finds are related to the presence of troops. Decorations include engraved gems, buckles, bracelets, pendants and amulets. And also the collection of coins is remarkable – with the exception of a short pause in the 1st half of the 3rd century there are coin mintages of Roman emperors.
The last phase of the Gerulata reconstruction was carried out in the 4th century. Finds from the research of Langobard burial site with 166 tombs on the outskirts of Rusovce represent an evidence of the favourable position of the locality also in the next historical era known as the migration period.
Author of the exhibition: PhDr. Jaroslava Schmidtová.
Seasonal operation from 1 April until 31October

April, october
May - september
Monday
closed
zatvorené
Tuesday
closed
10.00 – 18.00
Last entry at 17.30
Wednesday
closed
10.00 – 18.00
Last entry at 17.30
Thursday
10.00 – 17.00
Last entry at 16.30
10.00 – 18.00
Last entry at 17.30
Friday
10.00 – 17.00
Last entry at 16.30
10.00 – 18.00
Last entry at 17.30
Saturday
10.00 – 17.00
Last entry at 16.30
10.00 – 18.00
Last entry at 17.30
Sunday
10.00 – 17.00
Last entry at 16.30
10.00 – 18.00
Last entry at 17.30
New Year's Day
closed
Good Friday
closed
Holz Saturday
10.00 – 17.00
Easter Sunday
10.00 – 17.00
Easter Monday
closed
All Saints Day
closed
Christmas Eve
closed
Christmas Day
closed
New Year's Eve
closed
Seasonal operation from 1 April until 31 October
Basic ticket price
4 €
Reduced ticket
(children under 14 years of age, students, seniors)
2 €
Family ticket
(two adults and children under 14 years of age)
8 €
School group
(not offered during summer holidays)
2 €
Free entry
(children under 6 years of age, disabled person
card's holders and their guide, journalists,
teacher accompanying 10 pupils of students,
tourist guide)
Discounts for card holders
Bratislava Card 100 %
0 €