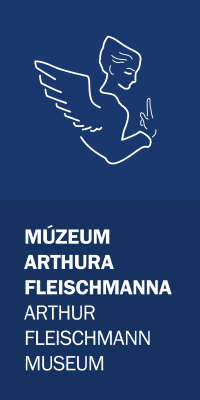 Arthur Fleischmann Museum
Biela 6, Bratislava




NOTICE
Museum is permanently closed.
Exhibition of Arthur Fleischmann Works
The Museum presents the life and work of a Bratislava native, both a doctor and a sculptor Arthur Fleischmann (1896–1990).
Arthur Fleischmann (1896–1990), a Bratislava native, studied sculpture with professor Jan Štursa in Prague and with professor Josef Müllner in Vienna (1921–1928). Fleischmann's 1930s creative period is related to this city, as he was commissioned to create several bigger open-air sculptures. The same period saw the creation of his more significant commissions for the St. Elisabeth's Church in German Hagen or for the grammar school in Amsterdam. Fleischmann regularly exhibited in Bratislava and he also took part in exhibitions of the Bratislava Art Society (Kunstverein) and also in international exhibitions, including in Padova, where he was awarded a portrait prize. In this period, he focused on ceramic sculpture in particular. At the end of the 1930s, he emigrated in order to escape the threat of fascism, he worked on the Indonesian island of Bali and in Australia. In 1948 as a well-known sculptor, he chose London for his final home. His work is extensive and diverse in terms of genres including figurative artefacts, as well as abstract compositions created for sacred interiors, portraits and minor sculptures. For his works, Fleischmann used various materials (ceramics, wax, marble, bronze), but from the 1950s especially the Plexiglas.
In addition to the unique collection of ceramic works from the artist's early creative period preserved in Bratislava collections, the Museum presents also a representative selection of 27 Fleischmann's 1938–1989 works on loan from the Arthur Fleischmann Fund in London. Together with numerous photo documents, the Museum offers a picture of an extraordinary versatile artistic personality that can claim his rightful place among protagonists of 20th century modern sculpture.
Author of the exhibition: Mgr. Zuzana Francová.