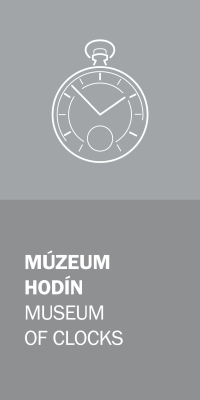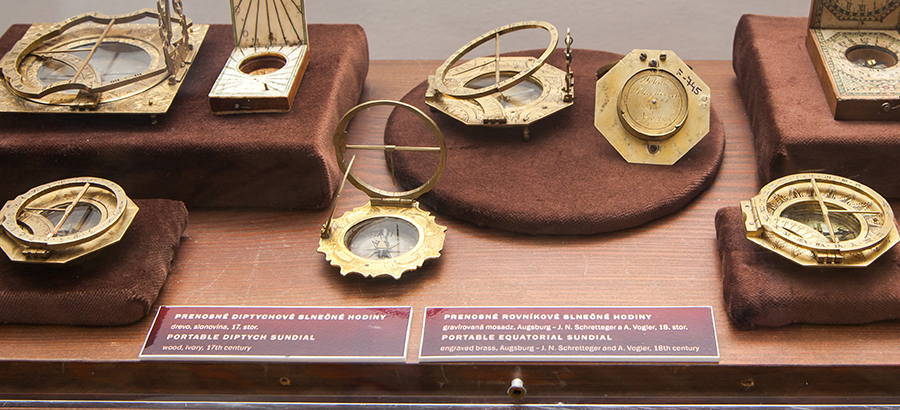 Museum of Clocks
Židovská 3, Bratislava




Exhibition of the Museum of Clocks
The exhibition is located in the Roccoco House at the Good Shepherd from the 18th century that preserves historical clocks and watches.
The exhibition documents the history of clockmaking in Bratislava from the end of the 17th century up to the end of the 19th century. The oldest written record of its existence comes from the 15th century and mentions the fixing of a tower clock. The first guild rules dated to 1546 were common for the guild of locksmiths, clock makers and gunsmiths. In the 2nd half of the 18th century the clock makers established their own guild. However, their specialisation divided them into two groups: makers of clocks and makers of watches. In the period of the 16th–19th centuries, 92 out of 186 clock makers working on the territory of Slovakia were located in Bratislava.
On the 1st floor, various types of wall and table clocks from the 17th and 18th centuries are on display. A more extensive collection is represented by the so-called city cabinet clocks typical for the Central European clockmaking.
On the 2nd floor, examples of clocks and watches from the last third of the 18th century are presented. In addition to folk wall clocks, the exhibition shows especially clocks made for nobility nad burghers. One of the most beautiful items is a big gilded fireplace clock (circa 1770–1780), signed by the well-known Bratislava clock maker Jacob Guldan. Interesting exhibits include small portable traveling clock (alarm clock) and a collection of watches of various forms and decorations.
On the 3rd floor, visitors can find clocks dated to the 19th century in the Empire or Biedermeier style. A picturesque groupcomprises picture clocks, some of them with a musical box. A valuable item, directly related to Bratislava, is the clock from 1886, decorated with carved symbols of individual stages of human life made according to the design of the well-known sculptor Johann Fadrusz (1858–1903).
The exihibition was open in 1974, enlarged later on with new collection items purchased on purpose to complete this collection.
Author of the exhibition: Lujza Kresánková.
from 1. 3. 2022
Monday
closed
Tuesday
closed
Wednesday
closed
Thursday
11.00 – 17.00
Last entry at 16.30
Friday
11.00 – 17.00
Last entry at 16.30
Saturday
11.00 – 17.00
Last entry at 16.30
Sunday
11.00 – 17.00
Last entry at 16.30
New Year's Day
closed
Good Friday
closed
Holz Saturday
11.00 – 17.00
Easter Sunday
11.00 – 17.00
Easter Monday
closed
All Saints Day
closed
Christmas Eve
closed
Christmas Day
closed
New Year's Eve
closed
Basic ticket price
3 €
Reduced ticket
(children under 14 years of age, students, seniors)
1,50 €
Family ticket
(two adults and children under 14 years of age)
6 €
School group
(not offered during summer holidays)
1 €
Free entry
(children under 6 years of age, disabled person
card's holders and their guide, journalists,
teacher accompanying 10 pupils of students,
tourist guide)
Discounts for card holders
Bratislava Card 100 %
0 €