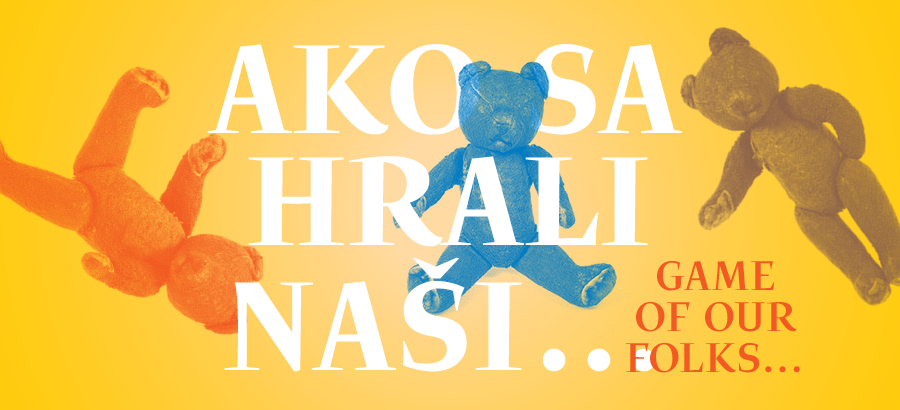 MMB exhibition hall
Primaciálne nám. 3, Bratislava
Stará radnica, entrance from the courtyard
+421 259 100 812 +421 259 100 847 mmba@bratislava.sk





NOTICE
Dear visitors, please follow all current COVID-19 rules.
Interactive exhibition of historical toys from the depositories of the Museum of the City of Bratislava
We selected from 3,000 historical toys in the museum's depositories. We installed almost 1,600 of the most cultic ones from the end of the 19th century to the end of the 20th century. With some you can play and have fun in an enlarged form.
Preparation and organisation of the exhibition is the culmination of a two-year educational project called Games of our folks aiming at the presentation of selected toys from the Museum's collections through specific events and plays. The exhibition is divided into two parts.
Presentation of the toy collection of the Bratislava City Museum that preserves almost 3000 items dating from the 2nd half of the 19th century up to the end of the 20th century.
Majority of toy items can be seen at this exhibition as genuine exhibits. The collection has not been developed systematically and only last years did see more active process of toy acquisition, in particular from the 2nd half of the 20th century.
Therefore, the exhibition cannot be considered as documenting the history of toys but as an invitation to the world of children and as an example of games of our folks.
Interactivity at the exhibition of toys Welcome, play and touch!
We prepared for you games and toys inspired by collection items preserved until today in the Museum's deposit. Try to find them among exhibits. Many of them are, in fact, smaller. Try everything the interactive part of the exhibition offers. Sit down in the kitchen. Find out what a flywheel is, have a game of Man, Don't Get Angry, solve a puzzle, dress a doll, make paper dolls, read, watch a story of toys and if you run out of time and do not try it all, come again...
Author / Marta Janovíčková
Authors of the interactive part / Beáta Husová, Martina Pavlikánová
Monday
closed
Tuesday
10.00 - 18.00
Last entry at 17.30
Wednesday
10.00 - 18.00
Last entry at 17.30
Thursday
10.00 - 18.00
Last entry at 17.30
Friday
10.00 - 18.00
Last entry at 17.30
Saturday
10.00 - 18.00
Last entry at 17.30
Sunday
10.00 - 18.00
Last entry at 17.30
New Year's Day
closed
Good Friday
closed
Holz Saturday
10.00 - 18.00
Last entry at 17.30
Easter Sunday
10.00 - 18.00
Last entry at 17.30
Easter Monday
closed
All Saints Day
closed
Christmas Eve
closed
Christmas Day
closed
New Year's Eve
closed
Bigger tour - combined entrance fee:
Old Town Hall, Exhibition of the City History
Apponyi Palace, Exhibition of the Period Rooms
and Exhibition of Viticulture

Basic ticket price
7 €
8 €
Reduced ticket
(children under 14 years of age, students, seniors)
3,50 €
4 €
Family ticket
(two adults and children under 14 years of age)
14 €
16 €
School group
(not offered during summer holidays)
2 €
2,50 €
Exhibition Hall (Old Town Hall Courtyard)
3 €
1,5 €
Old Town Hall Tower
3 €
Old Town Hall Tower (reduced ticket)
1,50 €
Old Town Hall Tower (family ticket: two adults and children under 14 years of age)
6 €
Free entry
(children under 6 years of age, disabled person
card's holders and their guide, journalists,
teacher accompanying 10 pupils of students,
tourist guide)
Discounts for card holders
Bratislava Card 100 %
0 €
0 €
See also
Watch a video invitation to an interactive exhibition of historic toys
Storytelling from the Museum