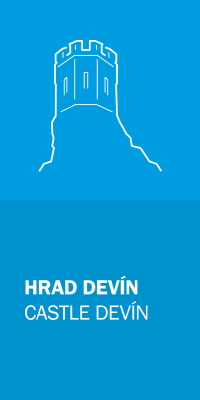 Devín Castle
Muránska 10, Bratislava
City district Devín
+421 2 657 301 05 hrad.devin@bratislava.sk




Exhibition: Devín Castle in the 13th–20th century
Place on the confluence of the Danube and Morava rivers inhabited uninterruptedly for almost 7000 years. The Castle was built near Danube fords and on the crossroad of the Danube and Amber roads over the confluence of the Danube and Morava.
The grounds of the national heritage site – Devín Castle – are not only a significant archaeological locality, but also a geological, zoological and botanical one. Devín Castle rock is also a national nature landmark of the 4th level of nature protection. On the castle grounds, it is possible to see not only the ruins of a medieval castle, but also foundations of buildings dating to the Roman and Great Moravian period. Devín Castle offers two exhibition premises. The rock of the Upper Castle includes caves that host a permanent exhibition and the cellars of the Renaissance palace in the courtyard of the Middle Castle provide a place for temporary exhibitions. Devín Castle, administered by the Bratislava City Museum, receives more than 200 000 visitors every year.
Permanent exhibition: Devín Castle in the 13th–20th centuries
From 2017, impressive rooms of caves of the Upper Castle in the castle rock host the permanent exhibition titled Devín Castle in the 13th–20th centuries. More than 300 archaeological finds from Devín Castle help to present the building of Devín Castle, its owners and key events that occurred in Devín. The archaeological exhibition is completed with the presentation of the geological history of the castle rock and unique display of the remnants of the Tertiary sea. These are represented by sea sand with respective fauna and noticeable influences of the sea level.
Author of the exhibition: Mgr. Katarína Harmadyová, PhD.
Exhibition: History is not boring – claim both the Danube and the Morava rivers
The exhibition focusing on Devín Castle history from the prehistory up to the modern times is aimed at both children and adults. It is to present every visitor with the most significant historical milestones of this unique locality. It offers the castle history without long texts and boring pannels. 7000 years were squeezed into several square metres of exhibition space and the visitor can enjoy them in just a few minutes, during which he can "join" the medieval battle, assemble a Roman legionnaire or make a selfie with Ľudovít Štúr.
March
April – May

June – August

September
October

November – February

Monday
closed
closed
closed
closed
closed
closed
Tuesday
10 AM – 5 PM
10 AM – 6 PM
10 AM – 7 PM
10 AM – 6 PM
10 AM – 5 PM
10 AM – 4 PM
Wednesday
10 AM – 5 PM
10 AM – 6 PM
10 AM – 7 PM
10 AM – 6 PM
10 AM – 5 PM
10 AM – 4 PM
Thursday
10 AM – 5 PM
10 AM – 6 PM
10 AM – 7 PM
10 AM – 6 PM
10 AM – 5 PM
10 AM – 4 PM
Friday
10 AM – 5 PM
10 AM – 6 PM
10 AM – 7 PM
10 AM – 6 PM
10 AM – 5 PM
10 AM – 4 PM
Saturday
10 AM – 5 PM
10 AM – 6 PM
10 AM – 7 PM
10 AM – 6 PM
10 AM – 5 PM
10 AM – 4 PM
Sunday
10 AM – 5 PM
10 AM – 6 PM
10 AM – 7 PM
10 AM – 6 PM
10 AM – 5 PM
10 AM – 4 PM
Last entry 45 minutes before closing time.
New Year's Day (1. 1.)
closed
Good Friday
closed
Christmas Eve (24. 12.)
closed
Christmas Day (25. 12.)
closed
Second Christmas Day (26. 12.)
closed
New Year's Eve (31. 12.)
closed
April – October
November – March
General Admission
8 €
4 €
Reduced Admission
(children from 6 to 15, students, seniors)
4 €
x
Family Ticket (2+3)
18 €

10 €

Family Ticket (1+2)
10 €
6 €
School Group (per person)
3 €
2 €

Free entry
(children under the age of 6, disabled person card´s holders and their guides, journalists, teachers – one person per 10 students, ICOM and ICOMOS card holders, members of Union of Museums in Slovakia, Czech Association of Museums and Galleries, Bratislava CARD, MultiSport Card)

0 €
0 €