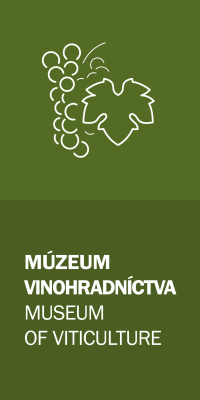 Museum of Viticulture
Apponyi House
Radničná 1, Bratislava

+421 2 5910 0856 mmba@bratislava.sk





Exhibition of Viticulture
The exhibition documents the history of winegrowing and winemaking in the territory of the capital city of Bratislava and at the same time offers a quality wine tasting experience in the cellars and ground floor of the Roccoco Apponyi House.
Beginnigs of the wine growing on the territory of Bratislava are documented already in the 3th century. Development of wine growing and wine making in the medieval city was enhanced by various decrees of rulers. Definitely, ground-breaking document was the 1291 charter of privileges of Andrew III, which exempted the burghers from paying taxes to the king on contemporary as well as future vineyards. One of the key factors was also the German colonisation in the 13th and 14th centuries that resulted in an influx of merchants, craftsmen and winemakers from the area of Rhineland in particular. The 19th century saw an emergence of favourable conditions for the establishment of industrial companies focusing on the mass production and trade of wine. In 1825, Ján Fischer and Michal Schönbauer opened a factory producing sparkling wine according to the original French recipe, in 1877 the company was bought by the Hubert family and the wine started to be sold with the Hubert label. In 1952, the company was nationalized and moved to Sereď. The most famous winemaking company in former Hungary was established by Jakub Palugyay. From its beginnings – probably in 1851 – until the end in 1918 the company was prosperous and received awards at important international exhibitions.
The ground floor presents the history of wine growing and wine making as well as two most significant wine making companies in the city mentioned above. The cellars offer a display of exhibits documenting the wine picking and processing. Undergroung premises comprise also voluminous barrels, wine presses and artifically decorated barrel bottoms. The wine making goes hand in hand with wine consumption suggested by an allusion of a wine bar from the beginning of the 20th century – nowadays, it houses also the Slovak National Collection of Wines offering a wine tasting possibility and sale.
Authors of the exhibition: PhDr. Regina Vidová and Mgr. Soňa Štangová.
Monday
closed
Tuesday
10.00 – 18.00
Wednesday
10.00 – 18.00
Thursday
10.00 – 18.00
Friday
10.00 – 18.00
Saturday
10.00 – 18.00
Sunday
10.00 – 18.00
Last entry 30 minutes before closing time.
New Year's Day (1. 1.)
closed
Good Friday
closed
Christmas Eve (24. 12.)
closed
Christmas Day (25. 12.)
closed
Second Christmas Day (26. 12.)
closed
New Year's Eve (31. 12.)
closed
OLD TOWN HALL + APPONYI PALACE
(including Exhibition of the City History, Exhibition of Viticulture and current exhibitions)
General Admission
8 €
Reduced Admission
(children from 6 to 15, students, seniors)
4 €
Family Ticket (2+3)
18 €
Family Ticket (1+2)
10 €
School Group (per person)
2 €

Old Town Hall Tower (Single Ticket)

3 €
School Group / Old Town Hall Tower (per person)
1 €
Free Admission
(children under the age of 6, disabled person card´s holders and their guides, journalists, teachers – one person per 10 students, ICOM and ICOMOS card holders, members of Union of Museums in Slovakia, Czech Association of Museums and Galleries, Bratislava CARD)
0 €
MultiSport Card (valid only for Old Town Hall Tower)
0 €

CURRENT EXHIBITIONS

(separate admission)

The City and Its People: A History of Bratislava
(Apponyi Palace)
General Admission
5 €
Reduced Admission
(children from 6 to 15, students, seniors)
2,5 €
Family Ticket (2+3)
12 €
Family Ticket (1+2)
7 €
School Group (per person)
1 €