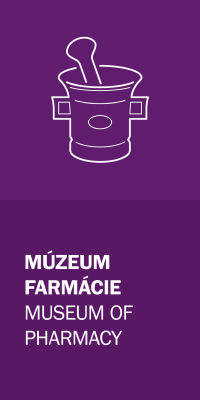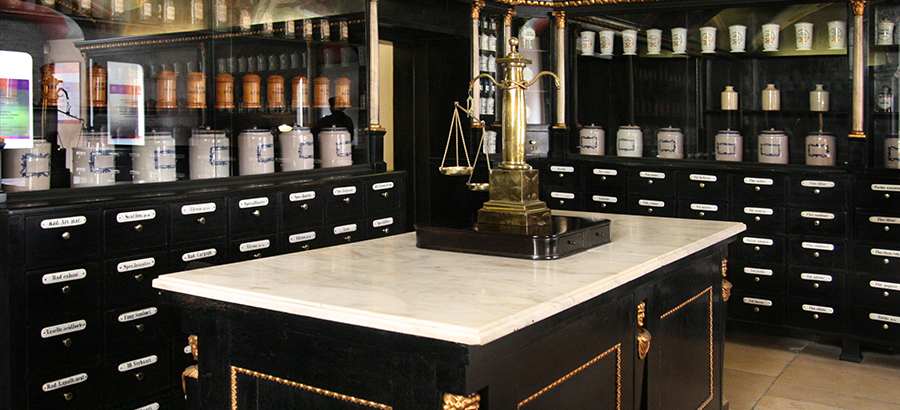 Museum of Pharmacy
Michalská 28, Bratislava
+421 2 5413 1214 mmba@bratislava.sk




Exhibition of the Museum of Pharmacy
The Red Crayfish Pharmacy is an exhibition of the Museum of Pharmacy located in a part of former pharmacy premises on the ground floor of a Baroque town house.
The exhibition is introduced by the original Empire style furnishment of the Red Crayfish pharmacy office with Baroque and Classical paintings featuring the topics of healing.
Next rooms show exhibits documenting 400 years of development of pharmacy vessels. They were made of various materials, with specific basic form, surface treatment and decoration. Also the form of labels, types of inscriptions as well as the script of inscriptions indicating the content of preserved medicaments developped in the course of centuries.
The basic equipment of the oldest pharmacies consisted of wooden vessels. They were used for preserving dried parts of plants and animals as well as gemstones. Later on, tin vessels were introduced for storing oils, fragrances, natural resins, but also dragon's blood, healing honeys, nutmegs, opiates and semi-liquid healing substances.
In the 17th century, the territory of Slovakia saw the beginnings of ceramic vessels usage for preserving ointments, extracts, honeys, elektuaria and syrups. For long centuries, glass vessels belonged to the permanent equipment of a pharmacy. They were used for liquid extracts, liquid chemicals, but also for powder medicaments.
The presentation also comprises examples of pharmacy furniture dated to the 17th century up to the 19th century – all exhibits belong to the collections of the Bratislava City Museum.
Author of the exhibition: Mgr. Marta Janovíčková, cooperation: Mgr. Mária Antolíková.
Monday
10.00 – 18.00
Tuesday
closed
Wednesday
10.00 – 18.00
Thursday
10.00 – 18.00
Friday
10.00 – 18.00
Saturday
10.00 – 18.00
Sunday
10.00 – 18.00
New Year's Day
closed
Good Friday
closed
Holz Saturday
closed
Easter Sunday
closed
Easter Monday
closed
All Saints Day
closed
Christmas Eve
closed
Christmas Day
closed
New Year's Eve
closed