Renaissance garden house
This little house used to stand on the place before the birth of Hummel.
It is hidden behind the music shop Hummel Music in a small courtyard. The exhibition of the Johann Nepomuk Hummel Museum is located in a historical house that used to neighbour the birthplace of the composer. It was built in the 17th century, in 1755 an open staircase was built from two sides ended by loggias. In 1909, a Baroque relief showing the Coronation of the Virgin Mary from the mid-18th century was placed on its façade as it originated from Hummel's home.
Nowadays, the house is in a courtyard of a Neo-Baroque apartment building dated to 1910.
In 1937, the city established a museum here on the 100th anniversary of the composer. The exhibition was re-installed on several occasions, the last modification was carried out to commemorate composer's 170th anniversary of his death (2007).
Monday
closed
Tuesday
10.00 – 18.00
Wednesday
10.00 – 18.00
Thursday
10.00 – 18.00
Friday
10.00 – 18.00
Saturday
11.00 – 18.00
Sunday
11.00 – 18.00
Last entry 30 minutes before closing time.
New Year's Day (1. 1.)
closed
Good Friday
closed
Christmas Eve (24. 12.)
closed
Christmas Day (25. 12.)
closed
Second Christmas Day (26. 12.)
closed
New Year's Eve (31. 12.)
closed
General Admission
3 €
Reduced Admission
(children from 6 to 15, students, seniors)
2 €
Family Ticket (2+3)
7 €
Family Ticket (1+2)
4 €
School Group (per person)
1 €
Free Admission
(children under the age of 6, disabled person card´s holders and their guides, journalists,
teachers – one person per 10 students, ICOM and ICOMOS card holders, members of Union of Museums
in Slovakia, Czech Association of Museums and Galleries, Bratislava CARD, MultiSport Card)
0 €
News Notices
Dear visitors, please follow all current COVID-19 rules.
Due to the nature of the interior space and its technical possibilities, the Museum is not barrier free.
The ticket from the Johann Nepomuk Hummel Museum is valid also for the Arthur Fleischmann Museum, Biela ulica 6.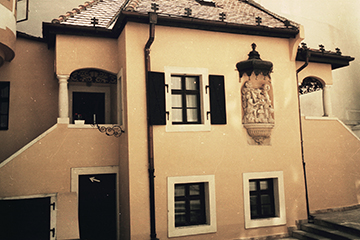 Virtual tour
Download Leaflet